Get Published Now! - 11/4/17
Attendee Information
Greetings authors!
Looking forward to seeing you Saturday Nov. 4, 2017 at 9AM.
This page will be updated with any last minute details as well as some post-workshop information I need to share.
Pre-class questionnaire
The session runs from 9AM-1PM.
You don't need a permit to park on campus in the on Saturdays, BUT - you can't park in the metered spots OR the ones that say 'Staff 24/7'
Click Here for more info on parking.
A map is attached and here's where it Bldg 3 is: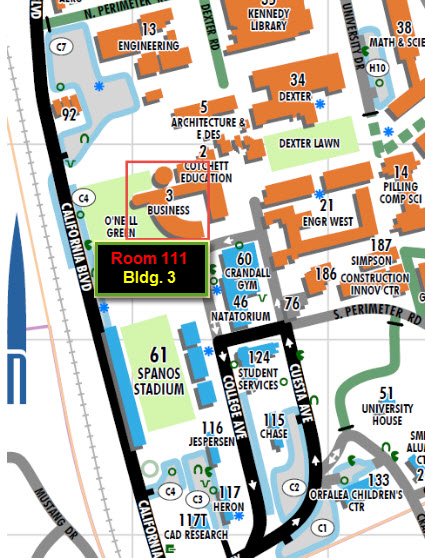 Below is a tentative agenda. Please complete the pre-class questionnaire to provide input on the topics I will be teach!
9AM-11AM:
Introductions
The path to getting published
AuthorDock
11:15-1pm
Formatting Do's & Don'ts
Marketplace Setup
Cover Design
Pitching to agents and authors
Final Q&A
Wifi
You should be able to access to the guest wi-fi online when you arrive on campus via http://www.servicedesk.calpoly.edu/guestwifi.
My best,
Brian
805-225-1251